Are your gymnasts finally ready to start training the Yurchenko vault? Here are 5 important concepts and techniques that you won't want to skip over!
1. Long Hurdle into the Round Off.
A lot of times when gymnasts see the vault round-off entry mat in front of the springboard, their first instinct is to hurdle as close to the mat as they can before they round off. Teach your gymnasts a long hurdle that is stretched out to guarantee a good push out of their legs to create a powerful round-off!
2. Proper Round-Off Hand Placement.
When a gymnast first starts to learn the techniques of the Yurchenko vault, it is very important to stress proper hand placement in the round-off entry. Often times they will have their hands too wide or overturn their hands in the round-off. Prevent these hand-placement errors before they happen with the Shannon Miller Collection Vault Round-Off Trainer Mat!
3. Proper Feet Placement in the Round Off.
Now that your gymnasts are going to back handspring up on to something, it is very crucial to exaggerate to feet in front position out of the round-off to ensure they will hit the back handspring on to the vault table at the right angle!
4. Fast Arms into the Back Handspring.
Teach your gymnasts to really throw their arms back fast out of the round-off and into the back handspring. One helpful training shape to teach this technique is a Mancino Handspring Trainer! Put the back handspring mat with the round side facing up and have your gymnasts lay flat and arch back on to the mat while quickly throwing their arms up by their ears!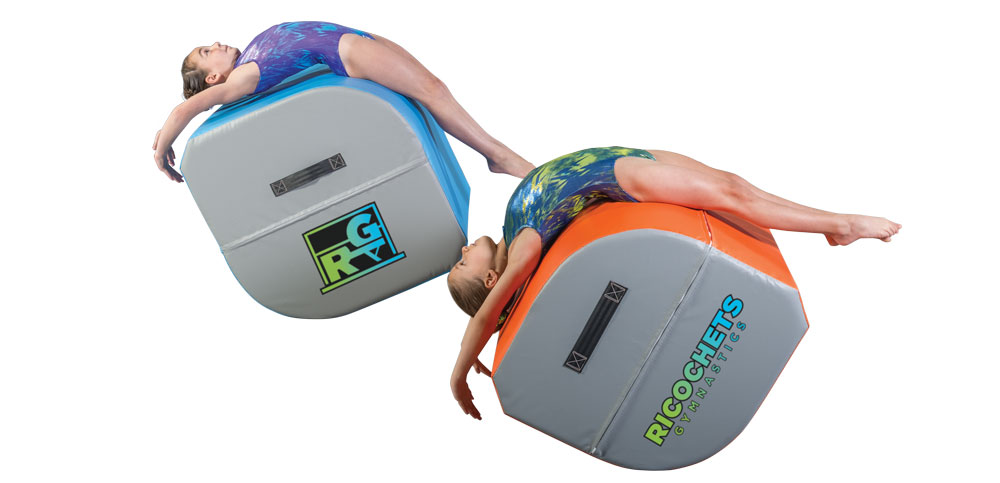 5. Fast Legs out of the Back Handspring.
When their hands block off the vault table, their legs need to be ready to snap over their heads to prepare for the flip out of the back handspring. A good drill to help with this is to have your gymnasts arch over a Mancino Tumble Trainer and snap their feet over their heads to an open push up position.