By Mancino Digital Media May 15, 2018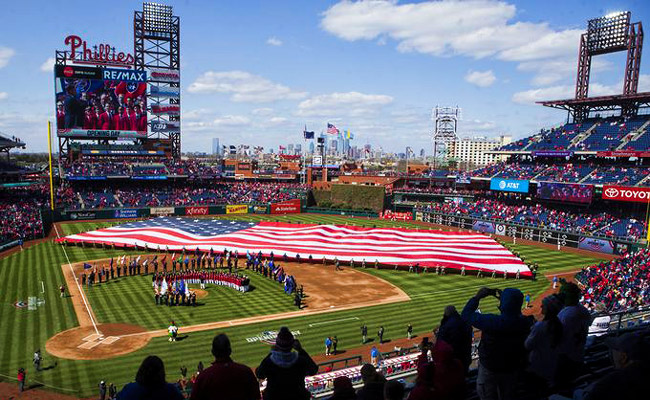 Mancino was excited when the Philadelphia Phillies contacted them to replace their stadium padding at Citizens Bank Park. Being a Philadelphia-area company and with many employees here from the city, working with local sports teams is extra special. To outfit the entire field required some extensive R&D and collaboration with the Phillies to determine the best padding to protect our favorite baseball team. The Phillies requested we use a special emerald green material to match past seasons
Printing and lots of it.
Padding was only half of the task at hand. Outfield padding at any stadium is prime real estate to advertise and that meant extensive printing on the outdoor material. We used the same fabric as the emerald green but in white and printed padded walls for W.B. Mason, Xfinity, Sherwin Williams and State Farm. For durability purposes, the padding that called for a black background was printed on the same material but in black. This required a special 5-color process that puts down an opaque layer of white ink, UV-cured, then a four color process on top to create the colors needed for NovaCare and Giant Food Stores. Another area that needed special attention was the Toyota bullpen. This required a lot of printing and color-matching as the entire bullpen is Toyota red. The doors and the padding that surrounds the bullpen area was printed red on white material.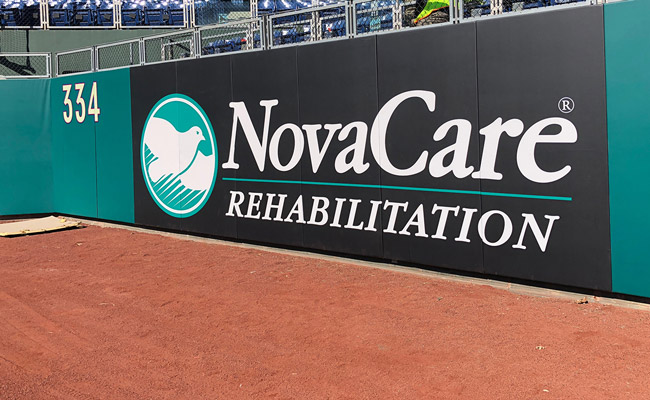 Seeing White.

Do you know why the white parts of the graphics on the pads like the text for Xfinity or Sherwin Williams is a shade of gray? Interestingly enough, we were required by the MLB to print all white areas as a shade of gray. The reasoning here is so the umpires and batters can see the ball better. The white baseball against a white background would be difficult to pick up on camera as well!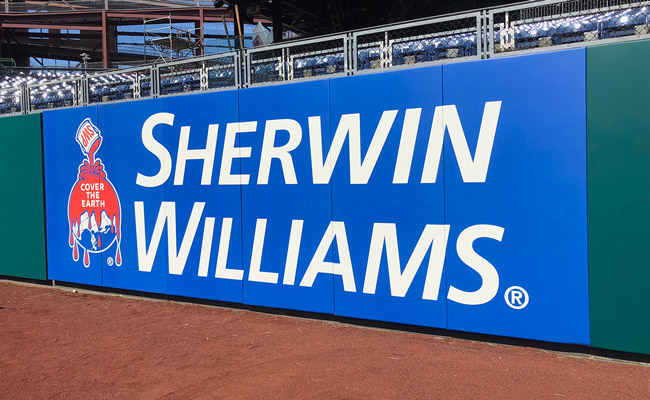 Welcome to the Yard.
New this year to Citizens Bank Park was the newest family attraction – the Yard. This complex is on the outskirts of right field and includes a rock-climbing wall, a hot dog launcher target game, pitch counters and a wiffle ball field! Of course the field was built to match the main field, and that meant more printing. We shrunk down the graphics and outfield distance numbers to mimic the field and the results didn't disappoint. Another fun aspect of the Yard are the pitch speed games. We printed out Phillie Phanatics to be the catchers and created padding and a catcher's glove to protect them!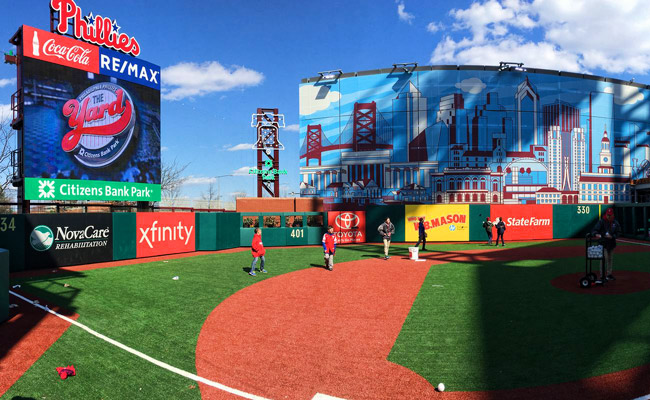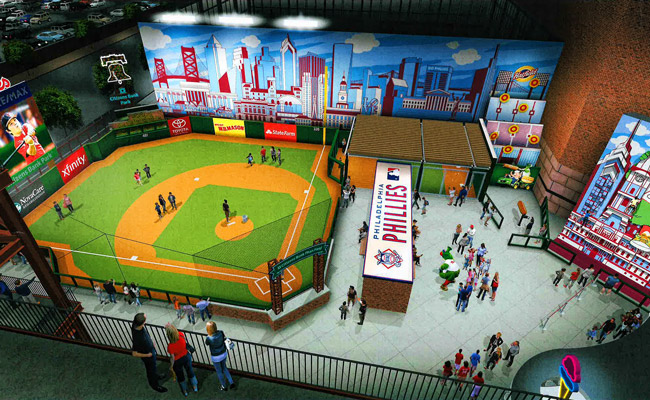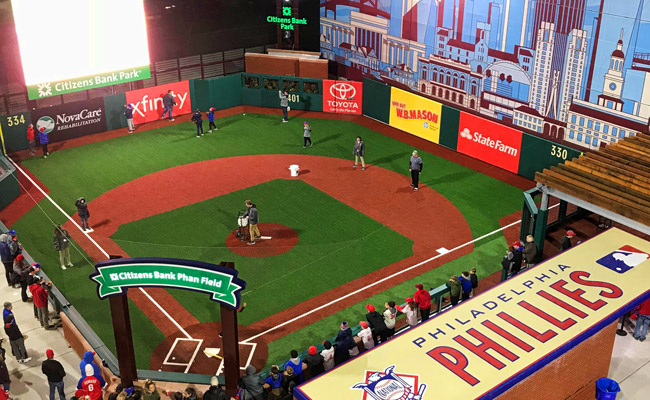 Off the Wall.
Moving forward, Mancino will be keeping the pads in tip-top shape and in some cases, replacing the pads entirely. A recent example was when the Phillies centerfielder, Odubel Herrera make a great catch but also "cleated" the wall pad to get his footing. We're happy to help when great plays like that are made!
Ensuring Athletes Safety Through Outstanding Product Quality Since 1966! Great grab @odubel_herrera! @phillies #phillies #mancinomats #mancinowallpadding
A post shared by Mancino Mats (@mancino_mats) on May 2, 2018 at 1:09pm PDT