Miranda Murphy just started off her second summer here at Mancino and is a valued member of our marketing and administrative teams. Not adverse to creating mailing lists and cleaning out file boxes, Miranda's true talent is educating our staff on the "hands-on" details of the gymnastics industry.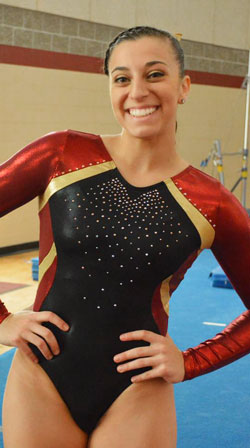 Miranda provided her bio details below:
" I am currently a senior and captain of the gymnastics team at Rhode Island College! I have been doing gymnastics for 14 years and competing for 10 of those years. I also started coaching women's gymnastics at the age of 14 and have been doing so for the past 7 years.
I started gymnastics when I was 7 years old. I just asked my mom one day to sign me up and here we are, 14 years later. When I was 7 and 8, I did gymnastics at a gym that is no longer in business and from age 9 to 18, I trained at Spirit Gymnastics in North Wales, PA.
I love training all 4 events in gymnastics but my favorite is either bars or beam, depending on the day. I have always been very passionate about gymnastics and have always loved how different of a sport it is. I love how there are so many variations of different skills you can learn and routines to put together. I also love how while it is a very individual sport, it is also very much team oriented, especially in college.
I went to Rhode Island College in 2015 to compete for their gymnastics team and to pursue earning my degree in Marketing. I was named captain of the team my sophomore year and named the team's MVP this past season. I will now be entering my third year as a team captain and my fourth and final year at Rhode Island College."
Collegiate athlete, competitor, team leader, coach, marketing student…pretty sure you can easily see why we are happy to have Miranda on our team! It's gonna be a great summer. Keep an eye out for future insider blog posts from Miranda diving deep into her gymnastics knowledge!